Linux
How To Install Kali Linux 2022 in Virtual Box
Install Kali Linux on Windows - Complete Beginner Guide | download kali linux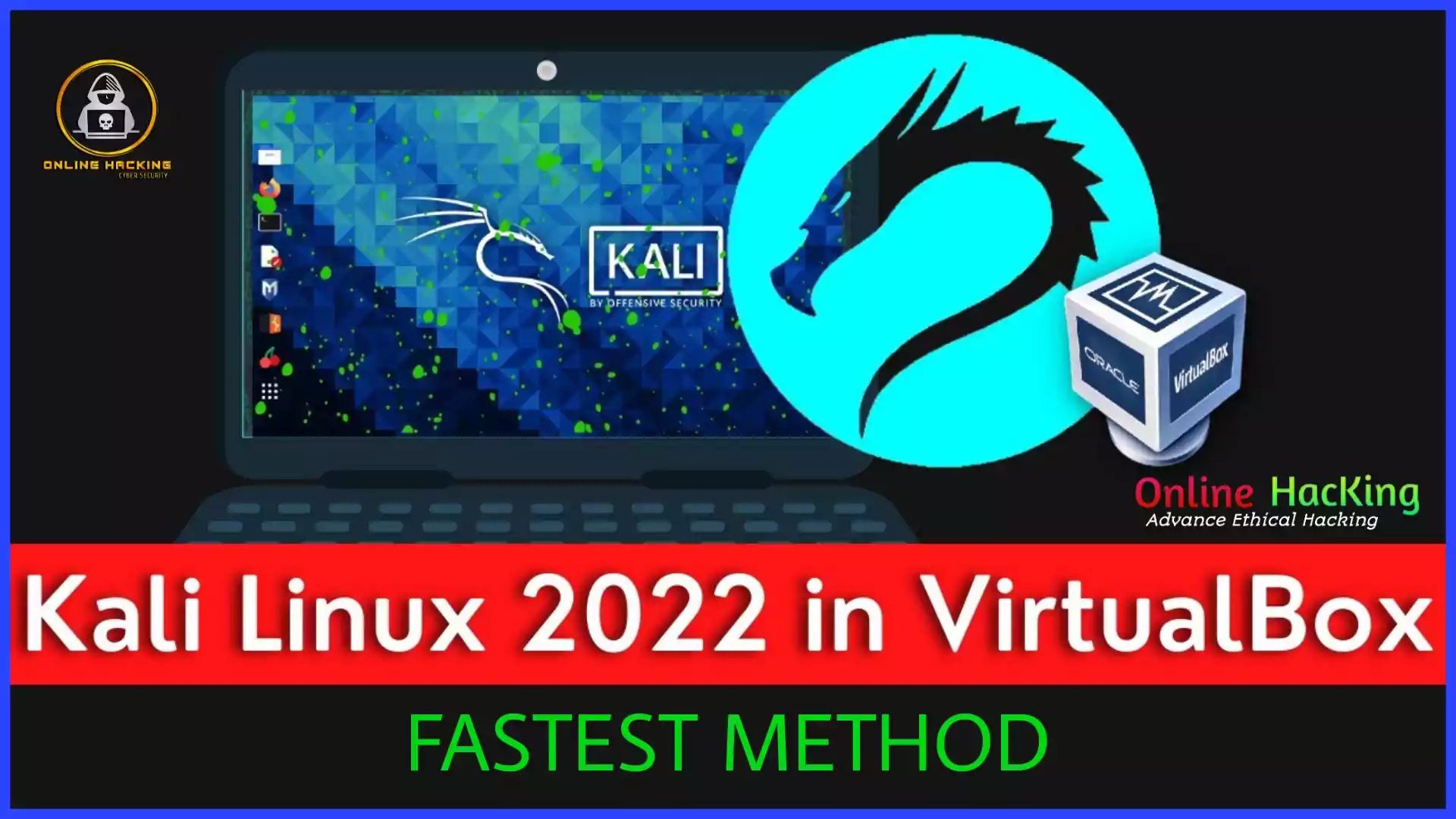 In this article, I will show you how to install Kali Linux 2022.1 in Virtual Box in two ways. Firstly who takes 30 to 40 minutes to install Kali Linux and secondly who can install Kali Linux within 12 minutes? I will also show you the big change that comes with the new release. Installing Kali Linux in VirtualBox is very easy and we will learn how to do it.
this blog to have an updated guide on how to install Kali Linux in a very simple way. In this guide, I show you how to install Kali Linux in VirtualBox in a complete guide, suitable for beginners. We will not skip any steps and I guarantee I will take you through every step of the way.
Also Read : How to Install Kali NetHunter Android Termux No Root
Release of Kali Linux 2022.1
On February 14, 2022, Kali announced the new version of this year, Kali Linux 2022.1. So in this article, I will introduce how to install Kali Linux in Virtual Box.
Step 1 –

 Installing VirtualBox
VirtualBox is an easy-to-use tool for creating virtual machines. And it is a great decision when it comes to installing Kali Linux. I personally used VirtualBox a few years ago.
Go to the VirtualBox website and download the latest version of VirtualBox and VirtualBox Oracle VM VirtualBox Extension Pack.
When you're done with that, install VirtualBox leaving everything as default. After that, install the VirtualBox Extension Pack. We are now ready to install Kali Linux in VirtualBox.
Step 2 –

Install Kali Linux
Before we can install Kali Linux, we have to download it.
Downloading Kali Linux
I have written a complete guide on how to download Kali Linux and check if the downloaded file is legal, for those who want 100% security.
Go to the Kali Linux website and download the Kali Linux 64-bit VirtualBox image. The beauty of this pre-prepared image is that there is no need to use the first installation process of Kali Linux. It comes pre-loaded with all the necessary drivers we need to use Kali Linux in VirtualBox.
It makes the whole installation process easier!
Also Read: How to Find Out Someone's IP Address from Telegram
Step 3 –

Importing Kali Linux to VirtualBox
Now we have everything we need to install Kali Linux.
Open VirtualBox and click File → Import Machine ...
From here, select the downloaded Kali-Linux-YourVersion-vbox-amd64.ova from your Downloads folder and click Next.
Configure the location where you want to save the Visual Machine File if you do not want to use the default location and click Import. We will change things like CPU, RAM, etc. over time.
Agree to the license agreement and wait for the import to complete.
Step 4 –

Fine Settings Kali Linux
After the import is complete, right-click your imported VM and select settings. Verify any incoming information from VirtualBox with yes, it may need to include other network drivers.
Changing the VM Name
On the General tab, you can change the name to something unusual.
Adjusting Memory RAM
Next, click the System tab and configure Basic Memory. As long as you stay inside the green area of ​​the adjustment bar, you're fine. As a general rule of thumb, try not to use more than half of your computer's memory memory. So if you have 8GB of RAM on your computer, allocate 4GB to Kali Linux.
Adjusting Processors
Click on the Processor tab next. The same rule of thumb applies as a memory. Sit inside the green area of ​​the adjustment bar.
Everything else can stay as it is right now. Exit Settings by pressing OK.
Step 5 –

Starting Kali Linux
Time to start our new Kali Linux! Right-click Kali VM and then click Start → Normal Start.
When you start Kali Linux for the first time, it may take a while to get started.
In case Kali Linux gets stuck in startup mode in Kali Logo (

Only Error

)
While writing this lesson, I encountered this problem myself. If Kali Linux 2020.4 is clinging to the Kali logo while booting, follow the steps below. This is related to the Windows Hyper-V feature.
Press Windows Key and type cmd
Right-click Command Prompt and select → Launch as administrator
This worked for me:
Restart your computer after that. After that Kali should start.
Some users have reported that they also need to use this command to activate it:
I suggest you try it out using the first one and start over. If that doesn't work, try a second and restart.
Step 6 –

Logging in to Kali Linux
Now you're ready to go! The default login is:
Username: kali
Password: kali
If you do everything right, you should be able to access and enlarge your screen, as Guest Add-ons are already included in this pre-configured image.
The Next Steps :
I will not go through the following steps in this article as I have a complete dedicated article on that: Top Things to Do After Installing Kali Linux in 2022.
I highly recommend that you follow at least the first steps in this article, as I combine things like default passwords with the user and show you my favorite Kali Linux tweaks.
Conclusion :
I hope I can show you how to install Kali Linux in an easy-to-follow way. Please check the links below if you would like to keep up to date with my content!